What is UPSC NDA Exam 2021
However, this Union Public Service Commission (UPSC) issued a notification of NDA 1 2021 on 30 December 2020. UPSC NDA (1) 2021 written examination will be held on April 18, 2021. UPSC NDA 2021 Admit Card will be issued in the month of March 2021.
NDA 2021 exam dates have been released. The NDA will be organized by the UPSC (Union Public Service Commission). It is one of the national level entrance exams which it conducts every year.
A total of 400 vacancies have been declared in this exam. Through the UPSC NDA examination, the eligible candidates are eligible for selection in the training academies of the Indian Navy, Indian Military, and Air Force.
After the candidate approves the written examination, he will undergo an SSB interview. After passing the written examination, SSB interview, and medical examination, the candidates are considered eligible for admission to the NDA.
In this, all the information related to the exam, we have provided complete information about the NDA 2021 Admit Card, Exam dates, Salary, Examination Center, Eligibility Criteria, Medical Standards, Application Form filling process. And exam pattern, course name, etc.
UPSC NDA 2021 Notifications
---
NDA I 2021 Admit Card is releasing in the month of March 2021. Check here for admit card details.
NDA I and II 2021 Exam Dates have been released. The exam will be held on 18th April 2021 (for NDA I) and 5th September 2021 (for NDA II). Check here for other dates.
Notification of NDA (1) 2021 has been issued on 30 November. The notification will be made available in PDF form.
Details like the number of vacancies and end exam date, application date, exam pattern, syllabus, eligibility criteria, etc. have been included in this notification. Candidates should read the notification properly before filling the application form.
NDA Eligibility Criteria 2021
---
Tell that the candidates have to make sure to check the NDA 2021 eligibility before filling the application form. UPSC NDA 2021 eligibility will include nationality, age limit, gender, minimum qualification, and physical standard.
Nationality
Citizens of the Indias
Subjects of Bhutan
Subjects of Nepal
Tibetan refugee who came over to India before the 1st January 1962 with the intention of permanents settlement in Indias.
The Persons of Indians origin who has migrated from Pakistan, Sri Lanka, Burma, and East African Countries of Kenya, Uganda, the United Republic of Tanzania, Zambia, Malawi, Zaire, and Ethiopia or Vietnam with the intention of permanents settlement.
Physical Fitness:
Those who resign or withdraw from any training academies of the armed forces on this disciplinary basis are not considered eligible.
For admission in UPSC NDA, the candidates should be physically fit according to the physical standards laid down by the Commission.
Age Limit: (Between 16.5 to 19.5 years)
Only unmarried males with a date of birth not later than July 1, 2004, are eligible for the NDA (I) exams.
Candidates born between January 2, 2002, and January 1, 2005, are eligible for NDA (II) 2021 exams.
Female candidates and married candidates are not eligible to apply for the examinations.
Educational qualification: The educationals qualifications are differents for different academies. Candidates can check the educational qualifications prescribed for different academies below:
UPSC NDA 2021: Highlights 
Exam name 
National Defence Academy & Naval Academy Examination (NDA & NA)
Conducted by 
UPSC
Exam level 
National
Exam category 
After Class 12
Frequency of exam 
Twice a year
Exam stages 
Written Test and SSB Interview
Exam mode 
Offline
Exam duration 
Five hours (Mathematics: 2 ½ hours, General Ability Test (GAT): 2 ½ hours)
Exam syllabus 
Mathematics: Algebra, Matrices and Determinants, Trigonometry, Analytical Geometry of two and three dimensions, Differential Calculus, Vector Algebra, Statistics and Probability.

GAT: English, General Knowledge, Physics, Chemistry, General Science, Geography, Current Events, etc.

Exam pattern 
GAT: 150 objective type questions

Mathematics: 120 objective type questions

Language 
English and Hindi
Exam purpose 
For admission to National Defence Academy (NDA) and Indians Naval Academy Course (INAC)
Test cities 
41
Exam helpdesk
011-23385271/011-23381125/011- 23098543
Official website
upsc.gov.in
UPSC NDA 2021 Application Form
---
The Students can know details about NDA 2021 Applications Form in the below-given sections:
For NDA 2021 Registrations, the student is required to apply online mode on the official websites.
The application process through online mode has been started from 30th Dec 2020 for NDA (I) and from 9th June 2021 for NDA (II).
No other mode for submissions of applications is allowed.
The Student should submit only one application form. In case of submissions of more than one application, the higher registration id (latest) will be considered and the rest of the applications will get canceled automatically.
Candidates must have a photo ID i.e. Aadhaar Cards/ voter ID/ PAN cards/ Passport/ Driving licenses etc. at the time of filing an applications form.
Candidates are able to complete the online application form in two stages – Part I and Part II.
In Part I of the application process, candidates have to fill in their basic and other details in the application.
In the Parts (II) application process, students are required to upload photographs and signature, makes the choice of exams center and make payment of the application fee.
The corrections will not be allowed in the details of the applications after the submission of the form.
Application Fees:
The applications fee payable for all categories candidates is Rs.100/-.
Candidates of ST/ SC/ NCOs/ Sons of JCOs/ ORS are exempted to pays the fees.
Payment mode: The fees can be paid through debit/ credit card/ net banking or SBI banks Challan method.
UPSC NDA 2021 Exam Dates
---
This notification was released on December 30, 2020, for the NDA 2021 exam. Tell that the candidates have to make a note of all the important dates related to the NDA 2021 exam, and try to complete all the relevant tasks before the last date so that there is no trouble at any last minute.
NDA 2021  Exam Dates
Events
Dates
NDA I
NDA II
NDA 2021 Notifications
December 30, 2020
June 9, 2021
Release of NDA 2021 Applications Form
December 30, 2020
June 9, 2021
Last date to submit the NDA 2021 applications form
January 19, 2021
July 29, 2021
Last date to pay the NDA 2021 fees Online
January 19, 2021
July 29, 2021
Released of NDA 2021 Admit card
March 2021
August 2021
NDA 2021  Exam Dates
April 18, 2021
September 05, 2021
Announcements of NDA 2021 Results
To be announced
To be announced
NDA 2021 Admit Card Date
---
The NDA 2021 Admit Card will be available for the candidates to download for the NDA session in March 2021. The special thing is that candidates can get the admit card 3 weeks before the exam. Students will be able to download the admit card by downloading the admit card.
This admits card contains details like exam center, name, roll number, exam date, address and time, exam center, etc. The student will be asked. If there is an error in the details of the admit card of the candidate, contact the university authorities immediately.
How to Download NDA Admit Card 2021
---
Follow the given procedure step by step to download the UPSC NDA admit card 2021:
Go to the official website https://www.upsc.gov.in/
Click on the given link.
A new page will be opened on the computer screen.
Now, select any of the given options, i.e. "By Registration ID" & "By Roll Number".
Fill in your "Registration ID/Roll Number".
Select your "DOF".
Now, click on the submit button.
The admit card will be displayed on the screen.
Download it & take a print copy of it for further process.
Minimum Qualification
For Army Wing of Nationals Defence Academy: Passed classes 12 examinations conducted by a state educations board or university.
For Air Force & Naval Wings of National Defences Academy and for the 10+2 cadet entry scheme at the Indian Naval Academy's: Passes classes 12 or equivalent with Physics and Mathematics conducted by a state education board or university.
Candidates who are appearing in class 12 or equivalent examination can also apply for the exams.
Physical Standards
Candidates seeking admissions to the National Defence Academy and Naval Academy examination must be physically fit as per the physical standards set by the conducting authorities.
Candidates who have resigned or withdrawn on disciplinary grounds from any of the pieces of training academies of Armed Forces are not eligible to apply for the exams.
NDA 2021 Vacancy
---
With the official notification on December 30, 2020, the vacancies of Bata Du have not yet been released and have been temporarily declared.
Any candidate can check previous year's vacancies for an idea. The number of vacancies to be filled through NDA 1 and 2 exam 2020 is given below. Candidates can go through the following number of vacancies for the UPSC NDA & NA (I) & (II) 2020 exam.
UPSC NDA & NA I, II 2020-2021 Vacancy:
UPSC NDA I Vacancies 2020-2021

| | |
| --- | --- |
| Academy | Vacancy |
| National Defence Academy | 370 (208 for Army, 42 for Navy, and 120 for Air Force) |
| Naval Academy (10+2 Cadet Entry Scheme) | 43 |
NDA 2021 Exam Pattern
---
Students can check the details of the NDA Exam pattern below:
Exam Mode: NDA exams will be held on twice through Pens and Paper (offline) mode.
Language of Papers: The language of the papers will be in English or Hindi languages.
Type of Questions: The objective types of questions will be asked in the papers.
Numbers of Sections: The papers will be divided into two sections – Mathematics and General Ability Test.
Total Marks: Paper will be of a total of 900 marks (Mathematics – 300; General Ability Test – 600). Also, the interview round (SSB) will be 900 marks.
Durations of the Exams: The time duration to complete the paper will be of 5 hours (2½ hours each).
Marking Scheme: 33% of the mark assigned to the questions will be deducted for each incorrect answer.
Know the distribution of marks and time durations for each subject:
Subject
Code
Time Duration
Maximum Marks
Mathematics
01
2 hrs and 30 min
300
General Ability test
02
2 hrs and 30 min
600
Total
900
UPSC NDA 2021 Results
---
Tell the candidates that the results of the NDA 2021 exam will be available on the official website https://www.upsc.gov.in/ after one month.
Results are updated as background and candidates can download and view only by roll number of candidates selected to participate in the interview process.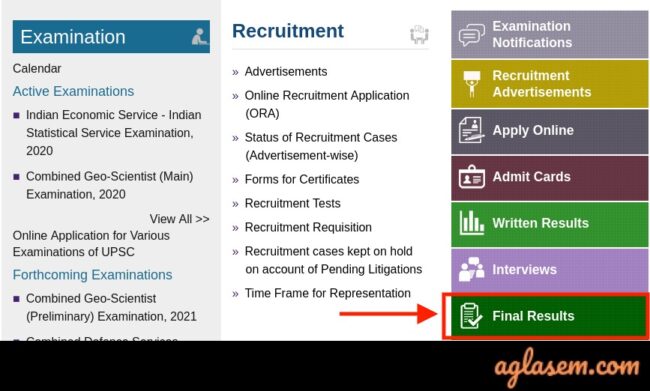 Now the candidates have to register on the official website. After the results of the interview are declared, the final marks list of the candidates will be released within 15 days and the candidates can wait to see it for 30 days.
After the result of NDA 2021 is declared, a merit list will be prepared by UPSC, on the basis of which candidates should appear before a Service Selection Board for Intelligence:
And personality test where the NDA's Army / Navy candidates and the Naval Academy's 10 + 2 Cadet Entry Scheme will be decided on the capacity of the officers and in addition to the above candidates for the Air Force will have to qualify for qualified pilot selection.
How to Check NDA 2021 Results?
Step 1: Candidate should visit the official website upsc.gov.in
Step 2: Click on the NDA 2021 result link shown on the home screen.
Step 3: Exams for which results are announced will be displayed. Click on the pdf link for the UPSC NDA exam.
Step 4: The candidate result will be displayed in the pdf file. Hence to find the particular candidate result, click 'Ctrl +F', enter your name or roll number to find your result easily.
Step 5: Download and print the result for future reference.
NDA Exam 2021 Syllabus
---
Tell that the syllabus of NDA will have different subjects of Mathematics, English, and cognition subjects. Students can read the whole syllabus through online mode on the website.
Students should check important topics appearing in English, Mathematics, and GK subjects within the section given below.
English:
The question paper of English is designed for testing the student's understanding of English and workman-like use of words. The syllabus covers various aspects like Grammar,
Vocabulary, Comprehension, and usage, and cohesion in extended text to check the candidate's proficiency in English.
Mathematics:
Matrices & Determinants, the geometry of two and three Dimensions, infinitesimal calculus and Differential Equations, Algebra, Trigonometry, Statistics and Probability, calculus, algebra, etc.
General Knowledge:
The paper on cognition in NDA will cover various topics from the Subject – Physics, Chemistry, Social Studies, General Science, and Geography & Current Events. The answers given by the candidates will show their intelligent understanding and knowledge of the topic.
NDA 2021 Preparation Tips           
---
In this article, we've mentioned some important preparation tips & tricks to crack NDA Examinations.
Schedule your Study Plan Smartly
For better preparation, it is necessary to have an intelligent study plan. Here, a sensible study plan means to manage it slow and NDA 2021 syllabus efficiently. Your preparation schedule must be well-organized so you're ready to score good marks.
Your Basics Should Be Clear
Firstly, do the analysis of your complete syllabus and mark the topics that need more concentration. Start preparing the topics from the fundamentals.
If your basics are clear then only you're ready to solve the high-level questions. Clear your basics first then bear the exam pattern and syllabus.
Focus on General Knowledge and English Subject
Proficiency in English is required for clearing the NDA examination. Your English isn't only tested within the written test but if there's fluency in your English, then it should leave an honest impression on selectors also at the time of interview.
General Knowledge is a component of the syllabus so prepare it well. you'll strong your GK portion by reading newspapers, magazines, journals, reference books of prominent writers that concentrate on current affairs, etc.
Study Material
Preparation from the correct books is extremely necessary. The market is stuffed with an outsized number of book stocks but every book is worthwhile, impossible. After the entire analysis, we've prepared some NDA books that facilitate your scoring good marks.
Solve Previous Year Question Papers
It is vital to try and do the preparation in the right direction. By solving previous year's questions, your speed is enhanced also as you'll get a thought about the NDA exam pattern of the examination and also the difficulty level of the questions asked within the examination.
Health Maintenance and Personality
Selection through NDA relies not only on the written test but your personality and health also play a significant role in it.
It is advised to any or all the aspirants to stay fit and healthy through the intake of sufficient food and water. Besides this, also prefer yoga or another exercise or meditation to alleviate stress.
Revision
The revision could be a key to success. Candidates are advised to create short notes & revise them on regular basis. this may help candidates to recollect it longer. On the opposite hand, keep a minimum of the last week before the examination.
Do not study unnecessary topics ultimately. this may cause you to forgot even what you have got studied earlier.
In the last week before the examination, revise all the topics & subjects you have got studied properly. this can make facilitate your to get within the examination.
NDA 2021 Cut Off  
---
Minimum qualifying marks for the written examination i.e NDA 2021 bring to an end are going to be released just after the declaration of the result. Candidates securing the cut-off marks are going to be called up for the two-stage selection procedure.
Cut Off Parameters
UPSC sets NDA 2021 cut-off marks supported various parameters. Those are: Total candidates appearing for the NDA 2021 Exam, The Vacancies within the academies (NDA and NA), Previous year's cutoff marks, Performance of candidates, the problem level of the exam.
NDA 2021 Cut Off (Expected)
NDA 2021 Cut Off

| Section | Expected Cut Off |
| --- | --- |
| General Ability Test | 370 – 410 out of 600 |
| Mathematics | 185 – 210 out of 300 |
NDA Cut Off Previous Years
NDA Previous year Cut Off

| Year | Minimum Qualifying Marks at the Written Stage (Out of 900 marks) |
| --- | --- |
| 2017 | 342 (At least 34% in each paper) |
| 2016 | 288 (At least 25% in each paper) |
| 2015 | 306 (At least 30% in each paper) |
UPSC NDA Exam 2021 Centres
---
NDA I Exam is conducted on April 18, 2021, in 41 cities everywhere in India. The address of the examination center allocated to the candidate is mentioned on the NDA admit card.
Admit cards are available for download three weeks before the commencement of the exam. Candidates have to carry their admit card together with ID proof to the exam centers.
NDA Exam Centres List 2021
---
Following is the list of exam centers for NDA 2021.
NDA Exam Centres 2021
Serial No
Exam Centre
Serial No
Exam Centre
1
Agartala
22
Kochi
2
Ahmedabad
23
Kohima
3
Aizawl
24
Kolkata
4
Allahabad
25
Lucknow
5
Bengaluru
26
Madurai
6
Bareilly
27
Mumbai
7
Bhopal
28
Nagpur
8
Chandigarh
29
Panaji (Goa)
9
Chennai
30
Patna
10
Cuttack
31
Port Blair
11
Dehradun
32
Raipur
12
Delhi
33
Ranchi
13
Dharwad
34
Sambalpur
14
Dispur
35
Shillong
15
Gangtok
36
Shimla
16
Hyderabad
37
Srinagar
17
Imphal
38
Thiruvananthapuram
18
Itanagar
39
Tirupati
19
Jaipur
40
Udaipur
20
Jammu
41
Vishakhapatnam
21
Jorhat
Center full Details 2021
---
The seats in UPSC NDA Examination Centers are limited and these seats are filled very fast, candidates should apply for the examination as soon as they submit their application form.
Tell that there is no reservation in the center allocation. All seats are allocated on a first-come-first-served basis.
Changes: Tell us that the UPSC has the right to change the examination centers at its discretion. Once assigned, the candidate cannot change the examination center.
Documents required at the Exam Centre
Candidates need to carry the following documents to the exam center:
Admit Card
A valid Photo ID's
UPSC NDA Exam Centre Instructions
The Candidates can go through the below exam center instructions for upcoming UPSC NDA Exams:
The Candidates are provided NDA 2021 Exams centers preference only on the first-apply-first allot basis. If the capacities of the centers have been attained, candidates will have to opt for other options.
The Candidates who cannot select or get an exam center of their preference, are required to choose from the remaining ones.
The Candidates can select up to 4 exam centers of their choice
The name of the exam center will be mentioned in the Admit Cards.
Once the Exams centers are allotted, there will be no window provided to makes any changes.
NDA 2021 Exam Day Guidelines
The Candidates should carry their NDA admit cards to the exam center
Along with the admit card, candidates should also carry one photo-identity proof
Carry clipboards or hardboard and a black ball pen for marking their responses
Sheets for doings rough work is provided by the invigilator
Book, note, loose sheets, electronics or any other type of calculators, mathematical and drawings instruments, log tables, stencils of maps, slides rules, test booklets, and rough sheets are not allowed inside the examination centers
Strict action is taken against those candidates who found copies or cheatings
NDA 2021 Answer Key
---
NDA 2021 Answer Key will be released viable online modes. NDA Exam is managed by (UPSC) Union Public Service Commission. it's a national-level examination organized for the choice in the Indian defense force (Indian Army, Indian Navy & Indian Air Force).
This exam is conducted on two occasions a year. For the year 2021, the examination is going to be conducted on 18th April 2021 & 5th September 2021 (NDA I & II). during this article, we've updated complete information about NDA Answer Key
After completion of the examination, a training institution will release the expected answers. The official UPSC NDA 2021 Answer Key is released after few hours or few days of the exam.
Answer Key is made available online mode by various institutes' websites. The examination committee will publish a separate answer key for all sets.
Candidates can download it for the specified paper set. Through it, candidates can calculators their estimated scores before the announcements of the results.
NDA 2021 Answer Key Dates
---
NDA Examination is go be conducted on 18th April 2021 & 5th September 2021(NDA I and II) through offline mode. After a few hours of Batu's examination, various coaching institutes will publish an informal answer key.
The official answer key are visiting be released after some days of the examination. NDA 2021 Result is going to be published online mode in PDF format.
The authority will release finally ends up in two stages, first for the written test & second after the SSB interview round.
The written test result will contain a roll number of candidates who get shortlisted for the SSB round. NDA 2021 Selection Process Screens the candidates for the military, Navy, and Air Force.
SSB Interview is five days long procedure that has two stages of testing as stage I & stage II. This procedure is to be organized at the SSB Centers (designated by SSB). SSB Interview also includes Intelligence & mental test.
NDA Answer Key (Previous Year)
---
Here, we have given the previous year's Institutional answer key.
NDA 2020 Answer Key for Mathematics & GAT by Major Kalshi Book:
NDA 2021 Selection Process
---
The Selection Process for NDA 2021 may be a two-step procedure that consists of a written exam and an interview. The written test is qualifying in nature.
Candidates have to score more than the minimum qualifying marks so as to be eligible to attend the following round which is that the interview. The interview has two stages namely Psychological Aptitude Test and mental test.
Candidates will undergo stage one on the primary day of reporting at the choice centers. Candidates qualifying for Stage I will be able to undergo Stage II.
the ultimate mark list of Candidates qualifying stage II is released after the successful conduction of the interview. Those candidates have to submit the initial class 10 pass certificate and sophistication 12 pass certificate together with one photocopy of the identical.
In order to be selected for the Army/Navy/Naval Academy and Air Force candidates will need to secure the minimum qualifying marks within the written examinations as fixed by the Conducting Authority and Officer Potentiality Test as fixed by Service Selections Boards.
---
During the training in service academies, a fixed stipend or salary will be given to the Cadets which is INR 56,100. Candidates can go through the below-tabulated data based on the rank and pay level :
NDA 2021  Salary
Rank
Pay Level
Lieutenant to Major
Lieutenant – Level 10 – INR 56,100 – INR 1,77,500

Captain – Level 10 B – INR 61,200 – INR 1, 93,900

Major – Level 11 – INR 69,400 – INR 2,07,200

Lieutenant Colonel to Major General 
Lieutenant Colonel – Level 12 – INR 1,21,200- INR 2,12,400

Colonel – Level 13 – INR 1,30,600- INR 2,15,900

Brigadier – Level 13 – INR 1,39,600 – INR 2,17,600

Major General – Level 14 – INR 1,44,200 – INR 2,18,200

Lieutenant General HAG Scale
Level 15  INR 1,82,200 – INR 2,24,100
HAG + Scale
Level 16 – INR 2,05,400 – INR 2,24,400
VCOAS/Army Cadet/Lieutenant General (NFSG)
Level 17 – INR 2,25,000
COAS
Level 18 – INR 2,5,000
NDA 2021 SSB Interview
---
NDA SSB Interview the round are organized after the written test. Candidates clearing the written test round are considered eligible for the interview and medical round.
SSB is organized in a very number of rounds. It will be held in five days and candidates should necessarily appear altogether the rounds. On a primary day, psychological tests are done.
The second-day test is of situation reaction test, word association test, self-description test, and thematic apperception test.
Military Planning Exercise, give-and-take Test, Intergroup footrace, Lecturettes, Snake Race, Progressive Group Task, command task & personal interview, half group task are done on the third day of interview for candidates by the President.
On the last two days – the fourth and fifth tests are done associated with Final Group Task, Individual Obstacles, Interview for remaining candidates, final board conference & announcement of results.
Contact  for details
---
UNION PUBLIC SERVICE COMMISSION
Dholpur House,
Shahjahan Road, New Delhi- 110069
Phone: 011-23098543 / 23385271 / 23381125 / 23098591
Email- feedback-upsc@gov.in
Official website: www.upsc.gov.in